5 years ago · 2 min. reading time · visibility ~100 ·
A Gift to the World's Fastest Man!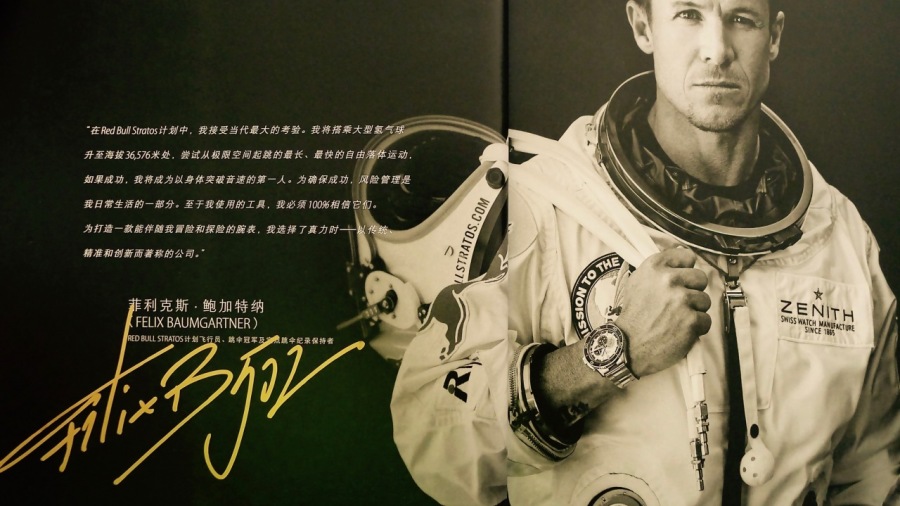 On 14th October, 2012, a man teetered at the edge of space before jumping from his craft and plummeting, freefall, towards a very hard earth at an incredible Mach 1.25. This man was Austrian skydiver Felix Baumgartner.
Just over one hundred years earlier, French aviator Louis Charles Joseph Blériot became the first person to cross the English Channel in an airplane.
Whilst both gentlemen share an insatiable appetite for adventure, there was another common thread - Baumgartner and Blériot performed these feats sporting a mechanical watch from renowned Swiss watch manufacture, Zenith.
A number of watch manufactures can claim a credible pedigree of producing pilot watches and aviation instruments. Indeed the first pilot watches originated at the start of the 20th Century when Louis Cartier gifted a wristwatch to aviator extraordinaire, Alberto Santos-Dumont. Santos-Dumont had complained that it was troublesome to check the time using his pocket watch whilst flying. Up until then, wristwatches had only started to become popular, and mostly for women. The Santos watch was arguably the first men's wristwatch ever, in addition to being the first pilot watch. The "Santos" line of watches continues to this day but not as pilot watches. In general, pilot watches needed to be large and extremely legible in addition to being robust enough to deal with bumpy flights. The watch that Blériot wore for the historic Channel crossing was to be the watch that inspired generations of pilot watches since. A black dial with white oversized Arabic numerals was chosen for optimal legibility and so as not to impair night vision. A large crown was also a feature so that the watch could be adjusted even when wearing gloves.
Throughout the two World Wars, Zenith continued to create watches, and indeed aviation instruments for the magnificent men in their flying machines. These watches proved their might in the numerous bombing sorties carried out over Germany by the Royal Flying Corps. For more information on this period, please see my article.
The Incredible Mark V Cockpit watches
Fast forward to 2012, 38,969.3 meters above New Mexico, and daredevil Felix Baumgartner salutes and launches himself off the helium balloon capsule when Mission Control announce "jumper away". After 42 seconds of freefall, Baumgartner had reached an astonishing 1,342 kilometers per hour. After 4 minutes and 16 seconds of freefall, Baumgartner deploys his parachute and lands in the desert a full 9 minutes after jumping. On his wrist the whole time was a Zenith El Primero Stratos Flyback Striking 10th .
I wanted to meet Felix Baumgartner.
In 2013, I commissioned an art piece by renowned Danish Artist and Illustrator Cay Brøndum. I planned to gift the piece to Felix Baumgartner on his next visit to China.
As it happened I got a call from Zenith asking if I would like to be interviewed about my collection for a watch magazine. I agreed, and we did the interview, which resulted in a three-page spread. They told me that I had actually just missed Felix Baumgartner's visit to China, but that they also planned to have him back pretty soon. Needless to say they would invite me to make my gift presentation. Zenith did give me a book signed by my hero to keep me occupied. Unfortunately Felix Baumgartner, the World's Fastest Man, has since taken to motorsports having finished ninth in his racing debut at the 24 Hour Nürburgring endurance race in 2014.
Felix, if by chance you read this, drop a comment below. I have an art piece that would look terrific above your fireplace! Create an account on beBee and let's connect!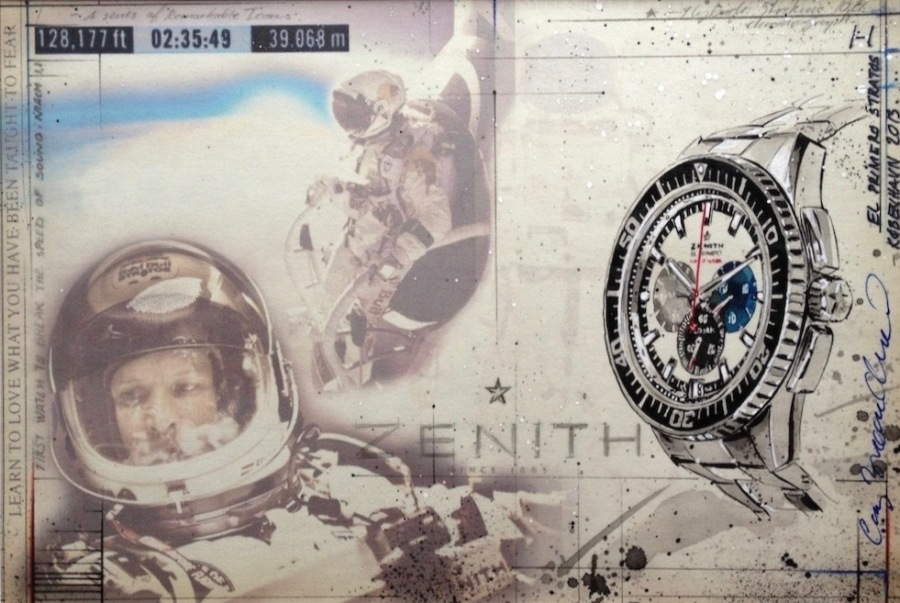 A Gift for Felix Baumgartner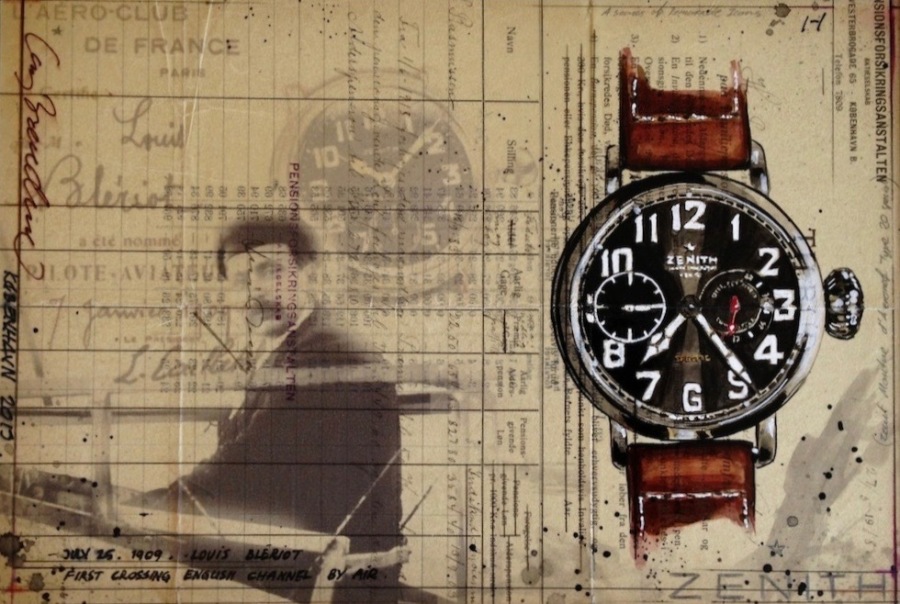 This piece is mine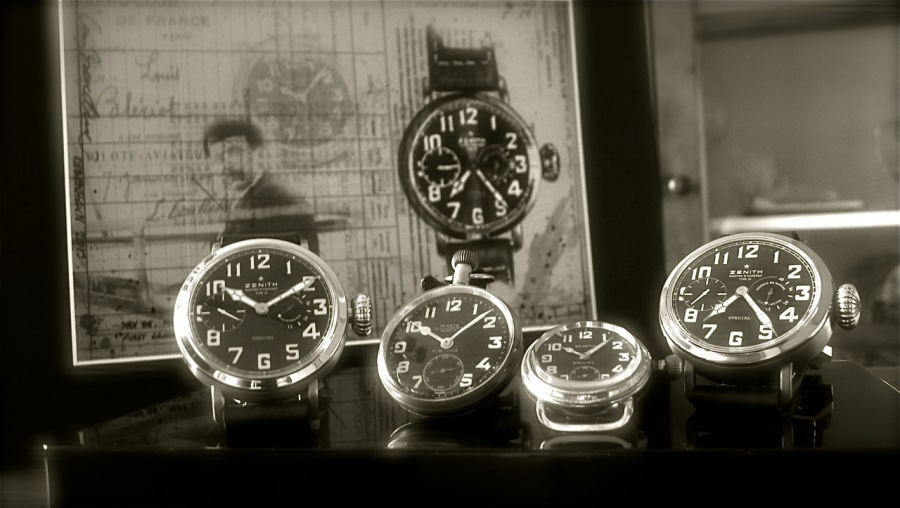 Zenith Pilots, including the same model as worn by Louis Blériot on his historic flight and a Mark V Cockpit watch. 
My Hero!
Dean Owen is Co-Founder of Quimojo, a revolutionary new concept in Global Campus Recruitment.
""""
You have no groups that fit your search