4 years ago · 2 min. reading time · visibility ~10 ·
Macaque Mischief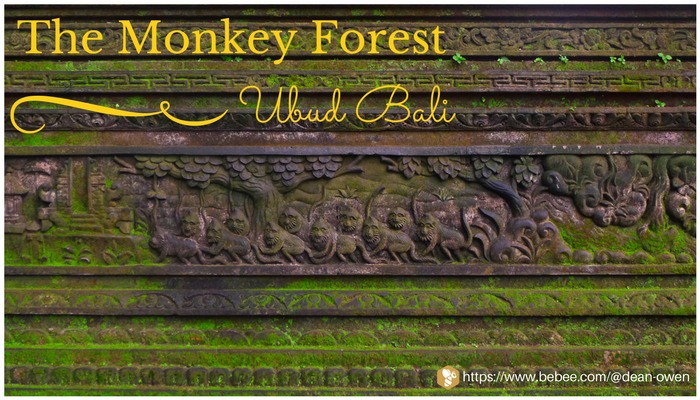 Naff surfer shorts and flip flops may be the order of the day, but pack away your Rayban's, lose the fake Panama hat, and stow away your wallet, for you are about to enter the Monkey Forest.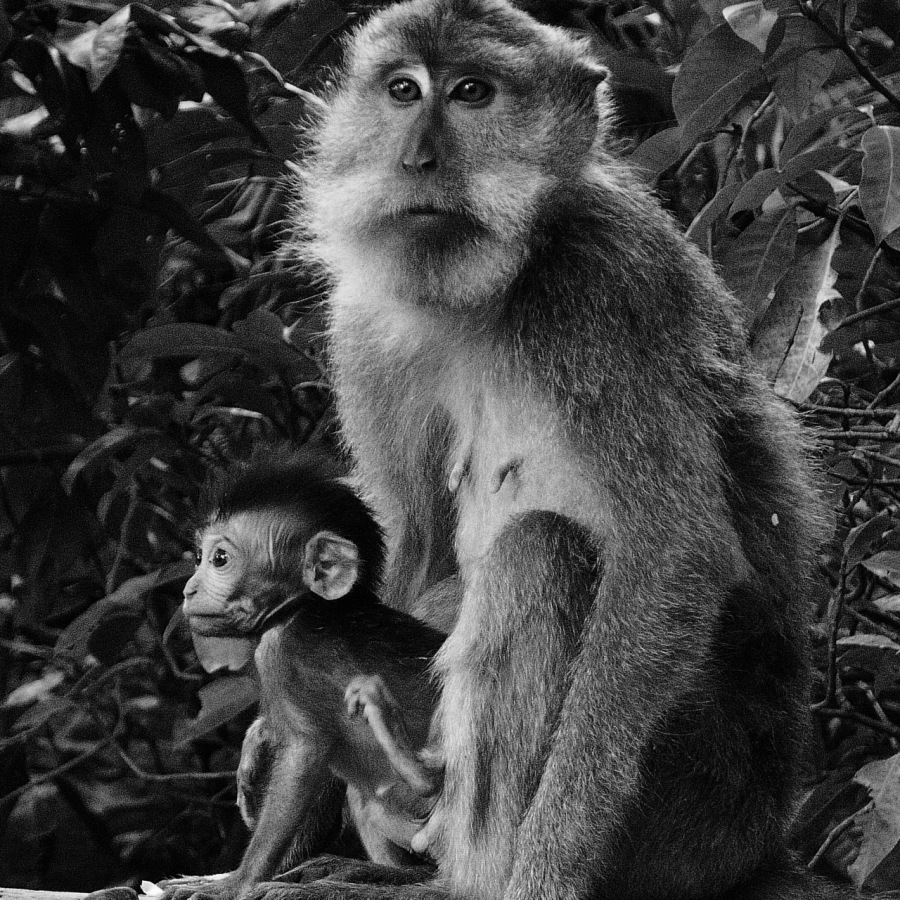 Lose all dangly bits, scarves, and hairbands. Macaque thieves nestled amongst ancient banyan eagerly await.
I trust you took the advice of your tour operator and took a rabies vaccination. This band of misfits has, on the odd occasion, been known to pierce skin with a pair of mighty incisors. Worse still is the possibility of getting the herpes B virus, but without benefits. The risk of catching herpes from monkeys is extremely low, but herpes jumping species have caused over a dozen recorded fatalities in the last few decades. Fortunately there are no known cases of either rabies or herpes as a result of interacting with the monkeys on this magical island of Bali.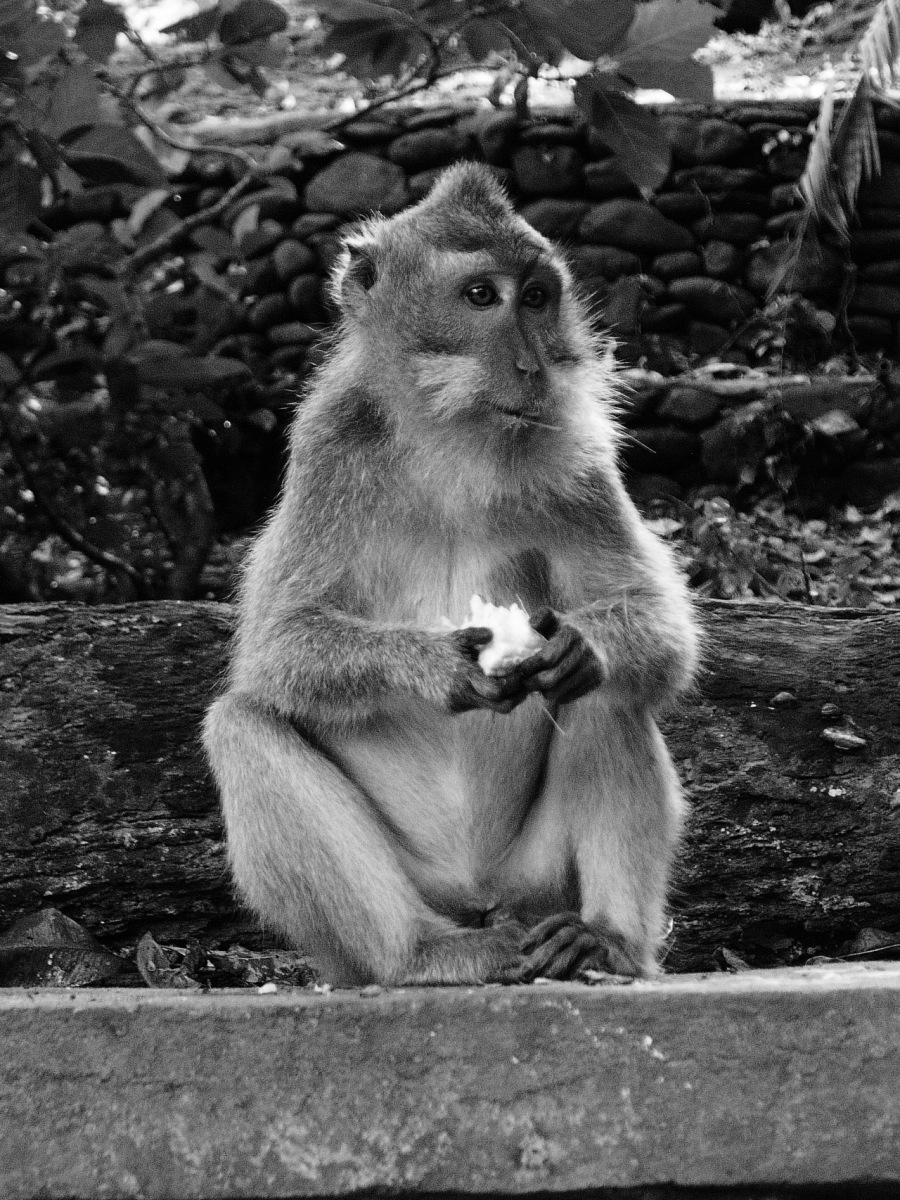 By all means, get up close and personal, but do not touch the primate residents. They may well share 93% of our DNA sequence, but they are not your long lost cousins. Yes they can be as cute as your niece Gemima, or as frumpy as uncle Jack, but these guys are hardened criminals, gang members looking for their next dopey victim.
No need to be overly worried, park rangers are on hand with advanced weapon technology; the slingshot.
You can pick up a bunch of bananas or some sweet potatoes at the entrance, or just stick a target on your back with the words "Pillage Me".
No use hiding the bananas in your baggy shorts, these macaques have acute olfactory receptors enabling them to sniff out potential targets a temple away.
They have one sole purpose: that delicious lump of goodies protruding from your shorts. Bananas, papaya leaves, apples, oranges, they want it all. If they can snatch it, they will. If they can't, they'll go for literally anything on your possession. One particularly sneaky female nabbed my lens cap and scurried up a tree. From then on, I became the negotiator, putting on my coy, seductive look whilst waving a banana in the air.
It was a routine they had nailed, a quick exchange of goods at arms length.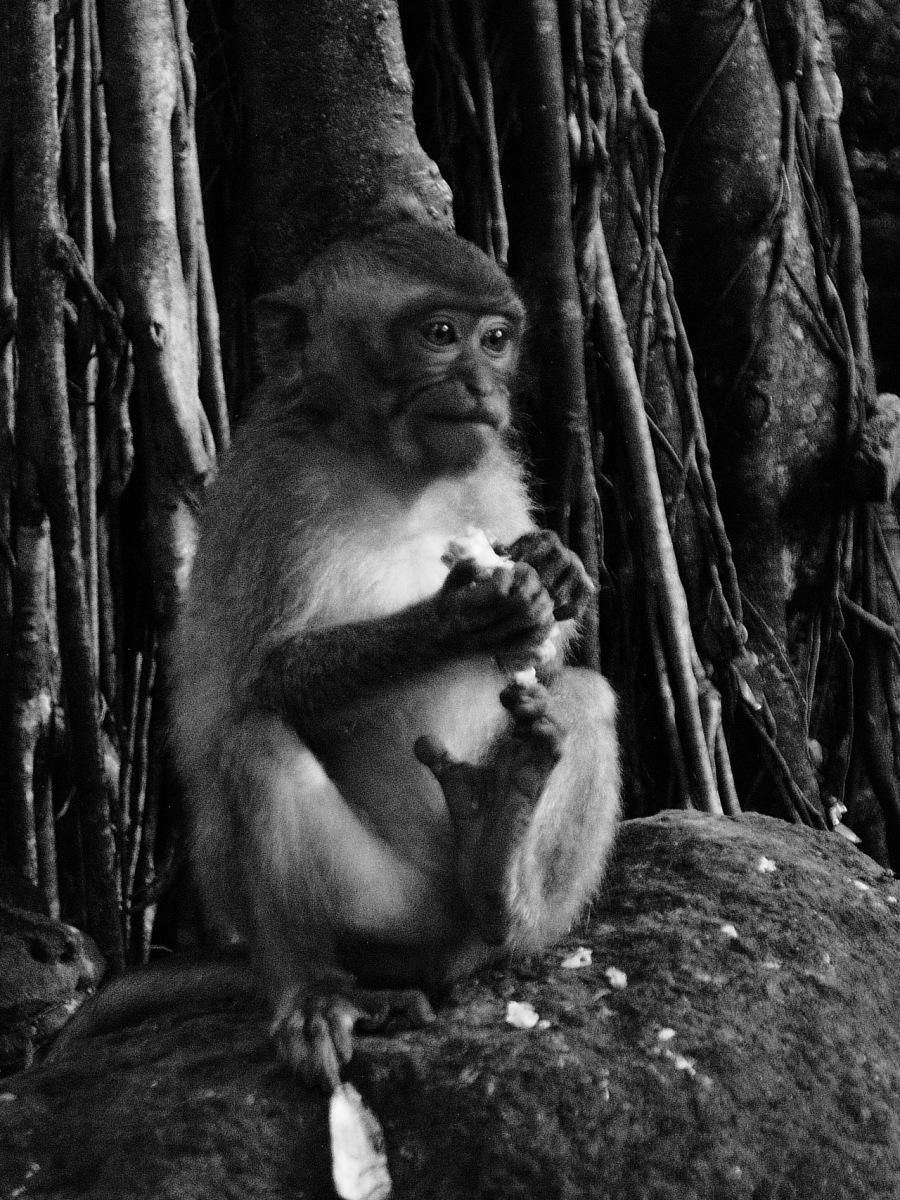 For all this talk of the remarkable intelligence of primates, you would have thought they would have figured out that if you were carrying fruit, you were going to give it to them anyway. Perhaps these Balinese long-tailed monkeys revel in thievery and clandestine exchange. Perhaps they consider it as part of a health and wellness regime to stay fit. They hardly have to fight for their food anymore. There is a truckload of bananas with their names on just outside the gate. And yes, the park rangers have given all six hundred or so monkeys here individual names.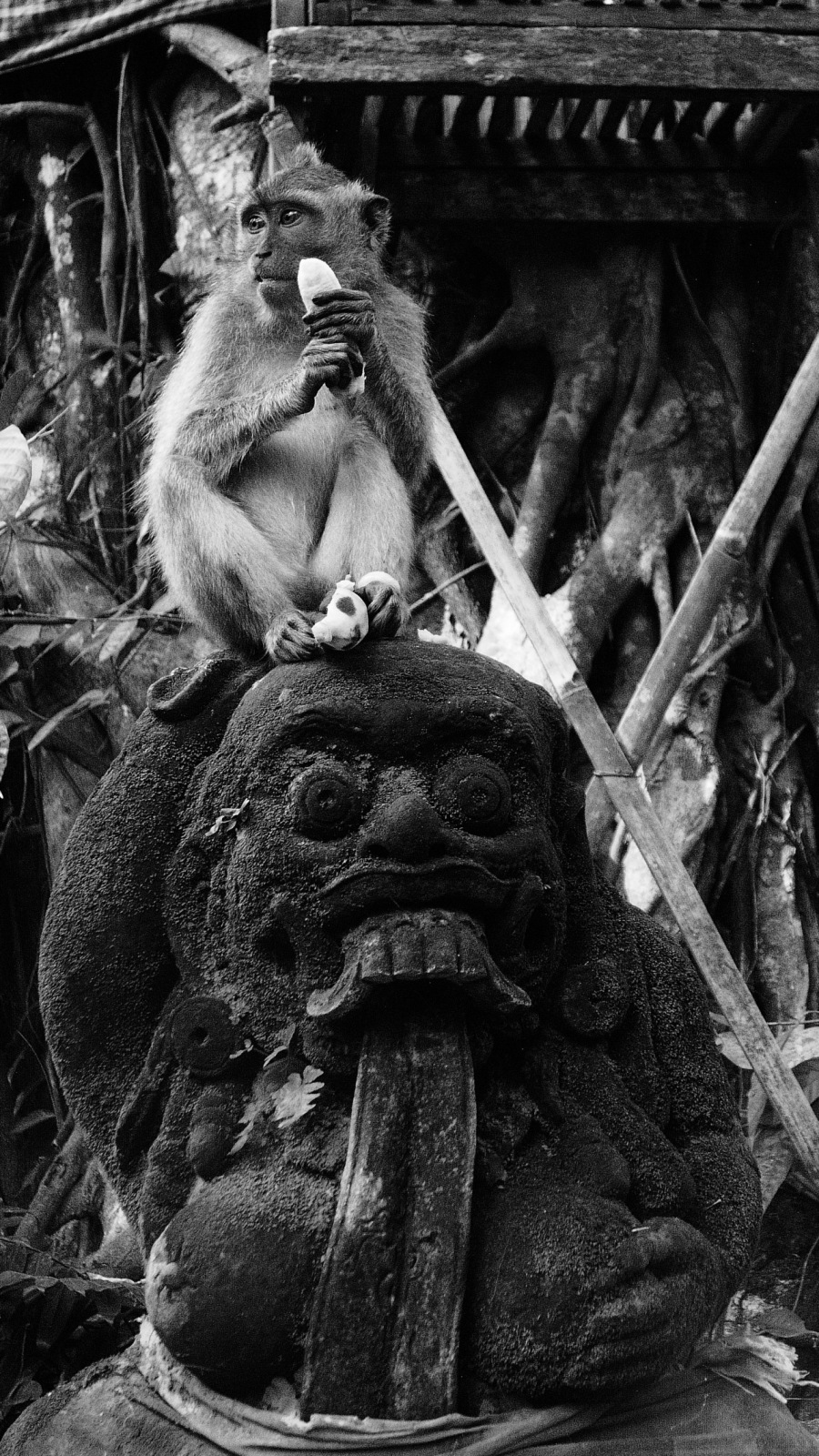 Within the forest lie three ancient temples dedicated to the worship of God Shiva, Goddess Gangga, and Lord Brahma Prajapati. Locals still come to these 14th Century Hindu temples to worship, and tourists, yes even the Aussies, are permitted to enter most areas provided they don proper Balinese traditional attire.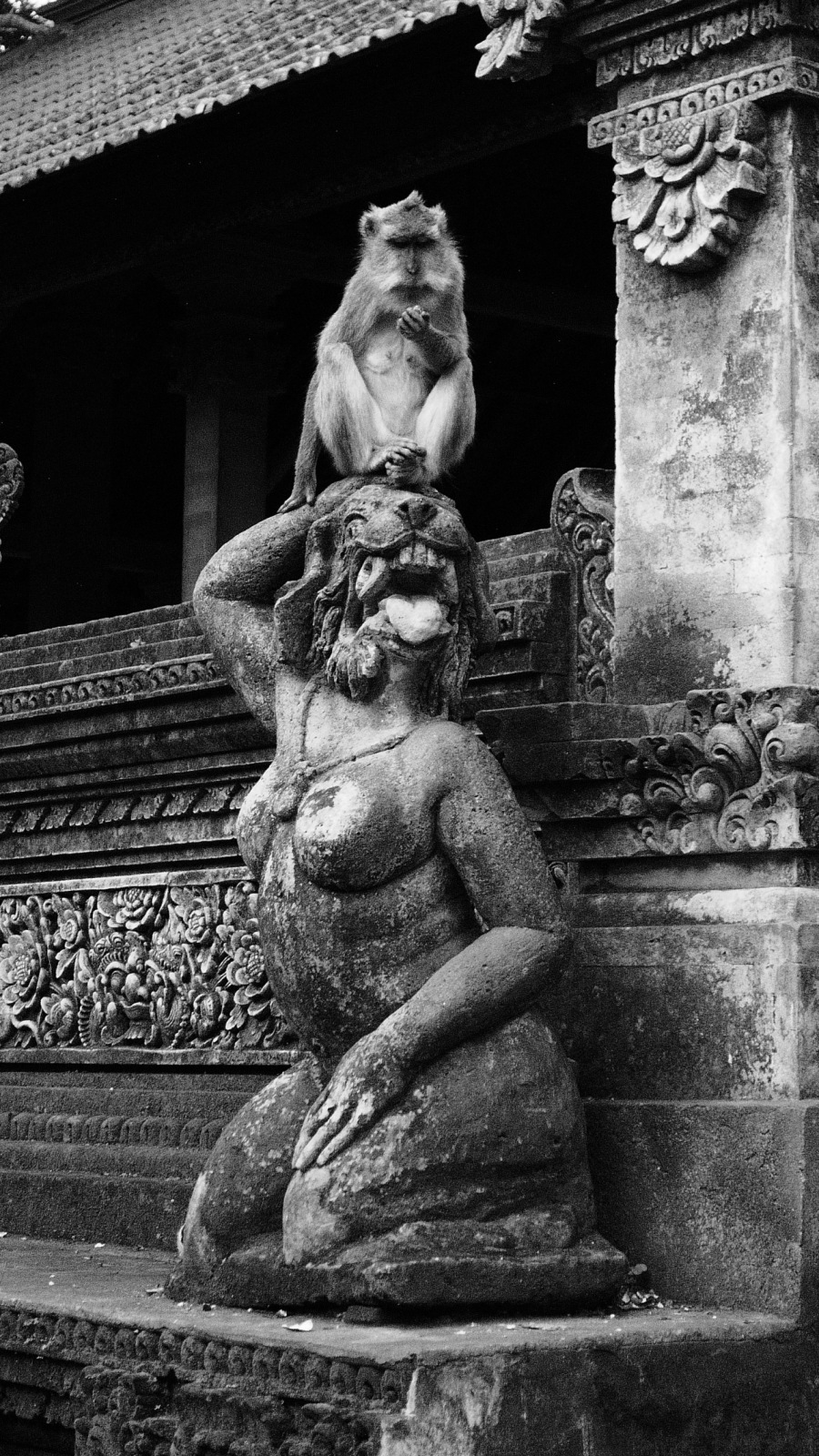 It is a pleasant departure from the cliff top infinity pools, the hip and trendy streets of Ubud, luscious green, but iridescent rice paddies, and contemporary and traditional art and jewelry galleries. A couple of hours monkey watching and one begins to see the individual personality traits. The overly protective and adoring mother, the overlord alpha males, mischievous teens, and tired elders.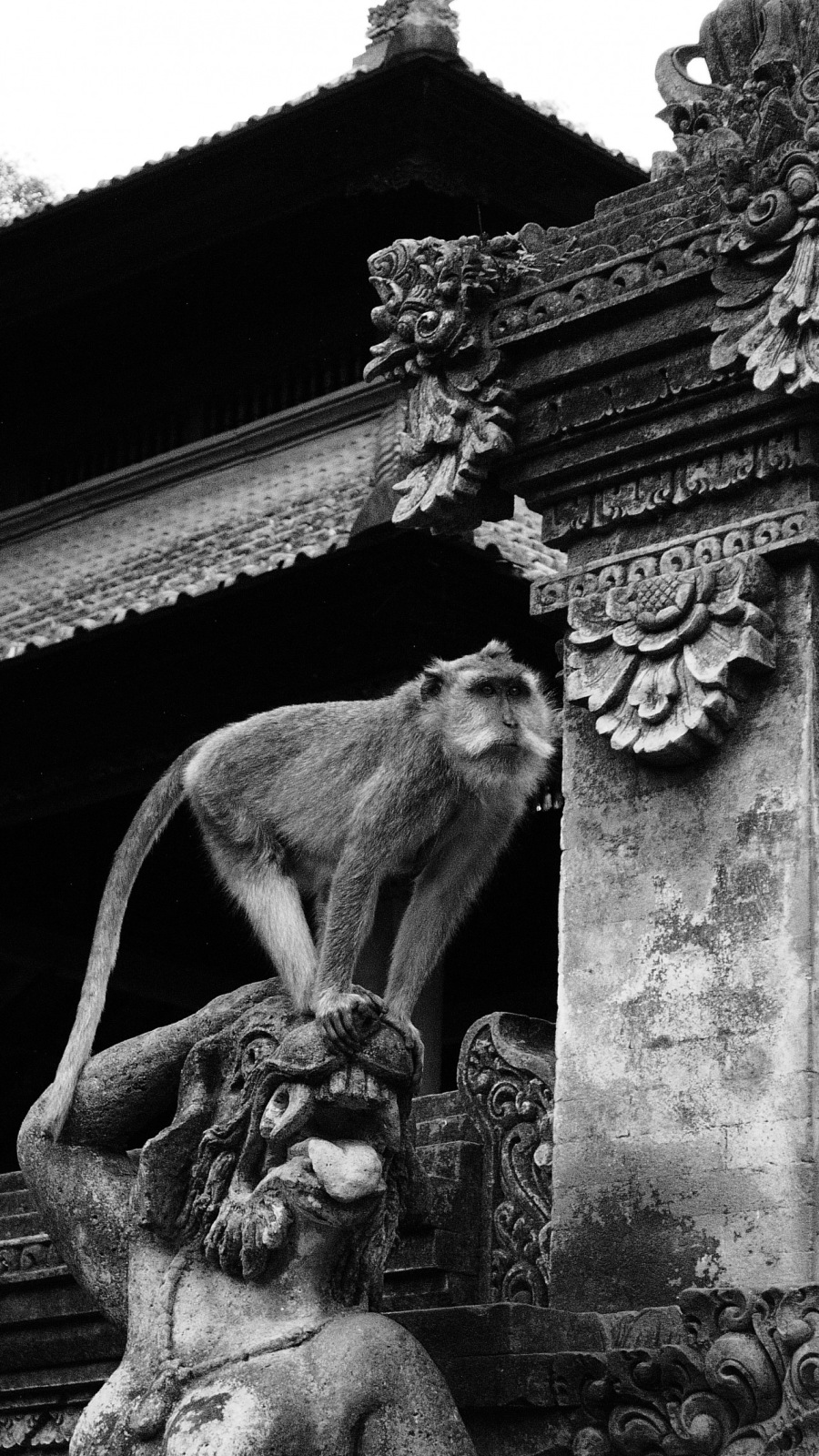 If ever you find yourself in Ubud, take the short walk from the town centre down Jalan Wenara Wana (Monkey Forest Lane) and enter the Kingdom of Thieves. Entry is a relative bargain at IDR. 50,000 (about $3.75) for adults and IDR 40,000 for children, but it could end up costing you far more.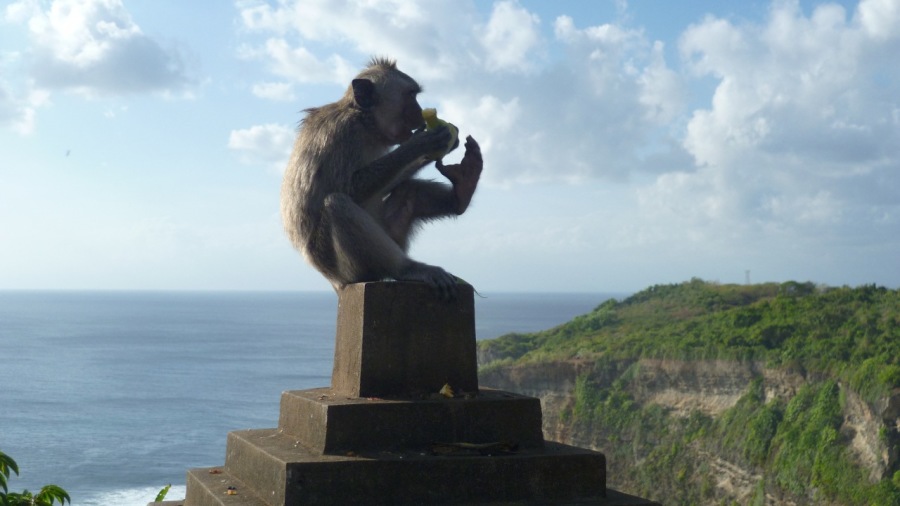 """"""""
You have no groups that fit your search