4 years ago · 3 min. reading time · visibility ~10 ·
Mixed Tape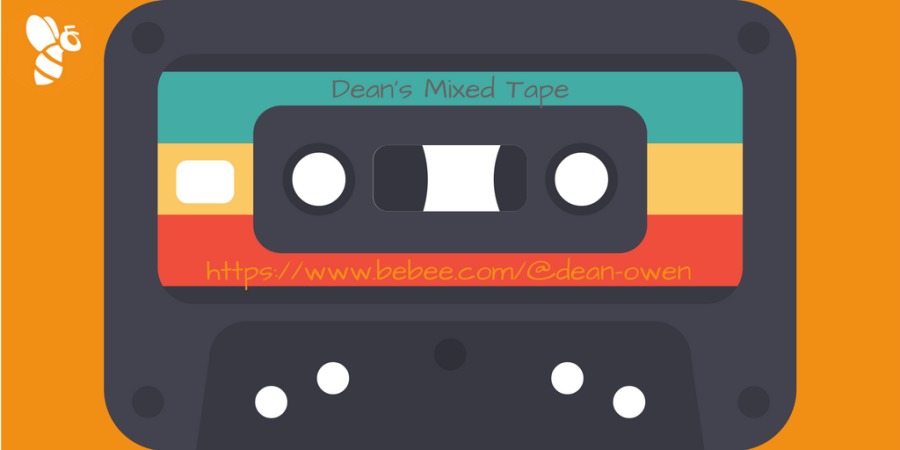 Jenny, Natalie, Ashley
I was a teenager once. And like you guys, music was an essential part of my growing up. Back then we'd listen to the radio, be sure to watch the weekly episode of Top of the Pops, and guard our precious vinyl collection with tenderness. We'd also compile a mixed tape by manually recording our favourite songs as they played on the radio. I guess you call them playlists these days. It's all quite easy now to create your playlists with a thing called a mouse. But in the eighties we had bulky radio cassette recorders and it was all rather clumsy. We'd often make a mixed tape of about 10 songs or so, and give it to our crush as a birthday present. I remember making a mixed tape for a young Scottish lass with flaming red hair called Lee Skara Baxter. That was way before I met your mom. 
With this post I'd like to recreate the experience and give you a virtual mixed tape. These are songs that we raved over. I guess it would quite similar to the tape I made thirty plus years back.
If you feel so inclined, create a playlist with these songs … the songs your father loved in his youth.
Track 1 – 99 Red Balloons, Nena. This German pop singer was little known in England until she decided to do one of her German hits, "99 Luftballons" in English. It soon topped the UK charts and this young German lass with infamously famous hairy armpits was propelled to international fame and glory. Not too sure what happened to her.
Track 2 – Come on Eileen, Dexys Midnight Runners, a brilliant song with a celtic flavour that topped our charts beating out Michael Jackson's "Billie Jean".
Track 3 – Another Brick in the Wall, Pink Floyd. Having spent my teenage years in what we thought back then was an oppressive UK public school system, this song with it's "We don't need no education" struck a chord in our school as we plotted anarchism to the tune of our favourite comedy show, The Young Ones. It would be years before we understood that those were the best days of our lives….
Track 4 – Take on Me by a-ha. The video may look dated, but this was mindblowing stuff back then and what a great tune from our European brethren.
Track 5 – Walk Like an Egyptian, The Bangles. Written by music producer Liam Sternberg and originally offered to Toni Basil who turned it down, this song topped the US charts for four weeks. Typical of the politically correct era in which we now live, this song was included in a BBC list of "records to be avoided" during the Gulf War. Great song, and we all loved the eyes! Incidently The Bangles did another song that you may know, Eternal Flame, that was written by Billy Steinberg, a music producer whom, Jenny and Natalie, your mother and I hosted on a visit to Tokyo in the 90's. He gave us a mixed tape of many of his and Tom Kelly's biggest hits, which included Madonna's "Like a Virgin".
Track 6 – Smalltown Boy, Bronski Beat. Individualism was born in the 1980's. The era allowed for unassuming characters who would typically be the brunt of bullying at school for being gay to achieve fame and riches. Great beat and incredible vocals.
Track 7 – Sledgehammer, Peter Gabriel. Originally the front man for the band Genesis, he hit it big again after going solo with this song. Another mindblowing video of the time.
Track 8 – Red Red Wine, UB40. One of the odd occasions where the cover version is better than the original, UB40 turned a very mediocre Neil Diamond song into a chart topper by adding a reggae vibe.
Track 9 – Don't You (Forget About Me), Simple Minds. Theme tune for the 1980's cult movie, The Breakfast Club.
Track 10 – Every Breath You Take, The Police. Well what can I say? While I'm sick of listening to Hotel California, this song has stood the test of time. This was Sting at his best and before he got all Balified new-age.
Track 11 – The Power of Love, Frankie Goes to Hollywood. Power lyrics, power song from a Liverpudlian band of misfits.
Track 12 – Back on the Chain Gang, The Pretenders. Very often the groups that got most playtime in my nifty little runabout Renault 5 back then were Prince and The Pretenders.
I was your age once.
Dad.
"
You have no groups that fit your search