4 years ago · 3 min. reading time · visibility ~100 ·
Midnight in Macau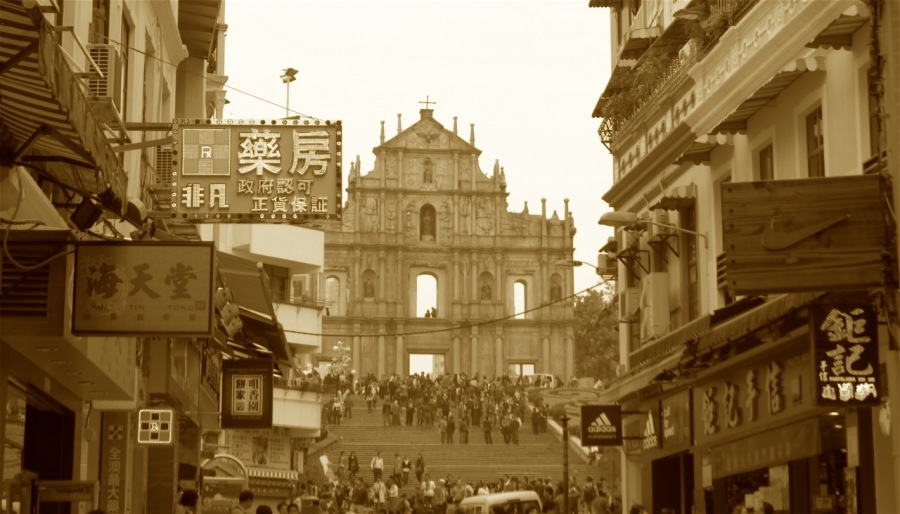 This was far from a Bond scene. No black tie show down with Le Chiffre over a game of poker. This was me in shirt and jeans, and a dainty little European dealer, and an annoying Chinese guy behind me who had noticed my winning streak a while back and was "back betting" my hands. I hate that.
I'd been at the tables for a couple of hours and steadily amassed a modest kitty. This would be my last hand, and I always bet big as a parting flourish.
This last shoe had been more than kind and in the last hour I'd managed to pay for the trip, buy a nice watch and a pair of designer shades, and give myself some extra loose change. I looked up at the croupier. She was happy with my winning streak. I was hardly in a position to break the bank.
She dealt me an Ace and herself a Four.
With five grand already down I hesitated.
If I doubled down and lost, I'd walk out lighter than when I came in. But this was a no brainer. I knew with a Four she had a 40% chance of busting and I had a 30% or so chance of getting a blackjack. I counted the chips and placed the bet.
A few seconds later I handed her a $100 chip. Although tipping is not that common in Asia, tipping the croupier after a nice run at the tables is like tipping the Gods of money for future prosperity. The Chinese guy who'd also won big on my last hand had promptly disappeared sans tip.
I took a cigarette and paused for a moment. My eyes wondered the cavernous room. Must be the size of a couple of football fields and packed to the brim. I don't often gamble and especially try to avoid these monstrous snake pits. This was nothing like London or Monte Carlo. This was Macau, Vegas of the East. A state that for hundreds of years had been administered by the Portuguese for a princely sum of 500 taels of silver in annual rent to the Chinese.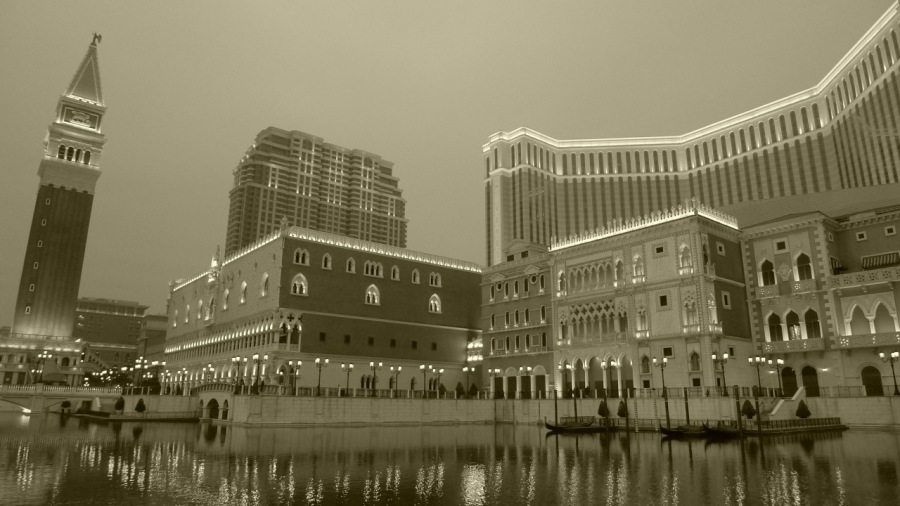 The Venetian, Macau
It must be some thirty-five years since I first heard the word Macau. It was mentioned in James Clavell's classic novel Shōgun when the captain of the Blackship is killed and the burly Rodrigues is appointed the new captain and "Governor of Macau". I pictured a sleepy colony of little significance, and back then it pretty much was a sleezy haven for small time gamblers. But in 2002 the monopoly on gambling, which had previously been under the realm of mega-tycoon Stanley Ho, ended and the Americans entered the market. Now with the Cotai Strip to rival the Las Vegas Strip, the landscape is dominated with gaudy monstrosities such as The Venetian Macau, Wynn, MGM Macau and The Sands.

Macau now dwarfs Vegas in terms of gambling revenue, hardly surprising since this autonomous territory is currently the only location in China where gambling is legal.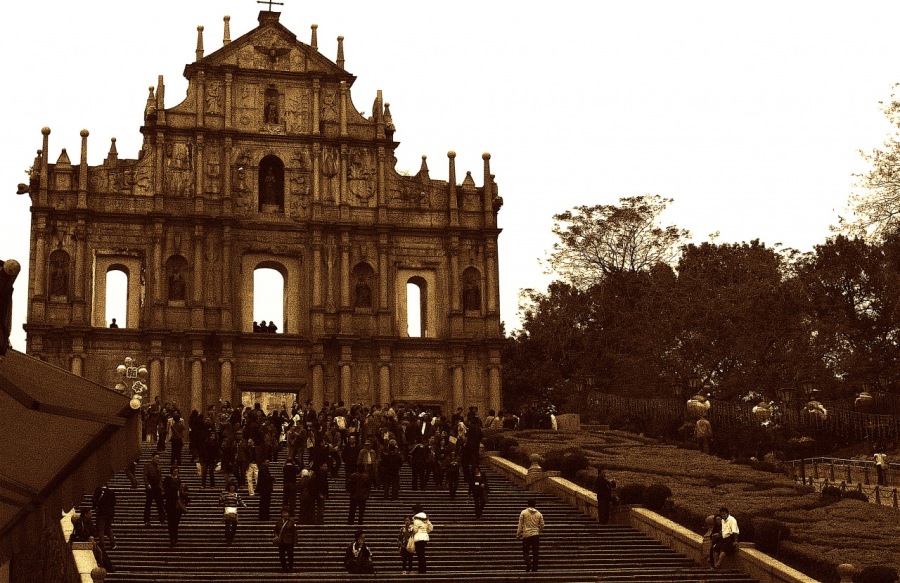 The Ruins of St. Paul's Church, built in 17th Century by the Jesuits
But step away from the strip and one enters a world steeped in history. This little peninsula was originally home to the Tanka boat people and Chinese refugees fleeing a Mongol invasion. It was in 1513 that the pilot Jorge Álvares set sail from Burma to became the first Portuguese to land in China near Guangzhou. Within decades the Chinese, lured by the offer of assistance for protection against pirates, had allowed to Portuguese to settle in Macau. The peninsula was of strategic importance to the control of the Pearl River Estuary and as such was subject to attack from jealous enemies. In June 1622 the Portuguese fended off an aggressive attack on the port by the Dutch in what was to be known as the Battle of Macau.
Macau was handed back to the Chinese in 1999 but the Portuguese influence is apparent everywhere you go. Most notably, the cuisine is very much a derivative of tradition Portuguese fare with dishes like bacalhau (salted cod) and Macau's famous egg tarts quite clearly an evolution of Pastel de Nata.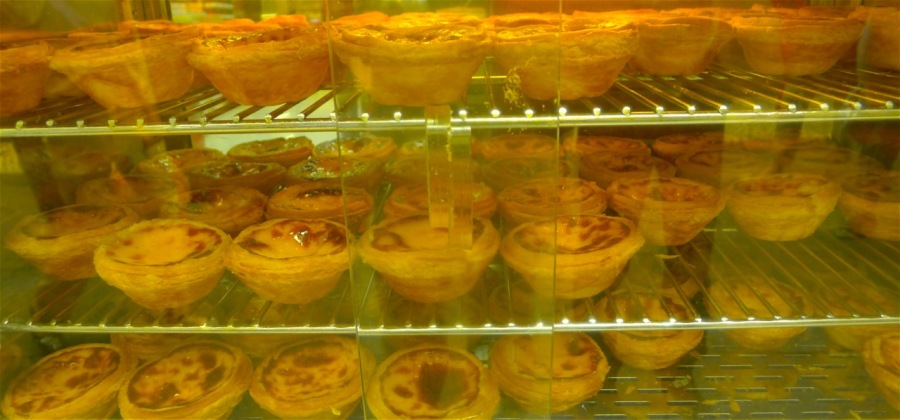 Being just an hour by ferry away from Hong Kong, Macau is a pleasant weekend trip where one can enjoy the fusion of East and West. Hit the tables, get seduced by the sprawling shopping malls, or take in the latest Cirque du Soleil, there are plenty of ways to thin the wallet.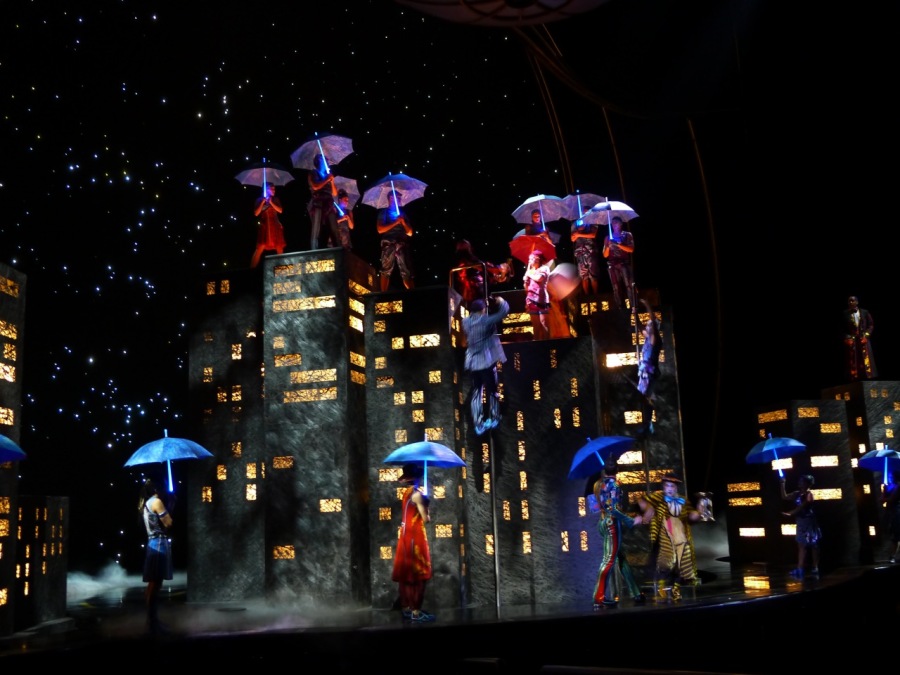 Cirque du Soleil

Despite sovereignty reverting back to the Chinese, Macau has been granted a high degree of autonomy under the policy of "one country, two systems", at least until 2049. Macau even boasts it's own currency, the Macanese Patacas.

Best of all, on occasion, a trip to Macau will pay for itself!
"""""
You have no groups that fit your search