4 years ago · 5 min. reading time · visibility 0 ·
Lyon Brave Unplugged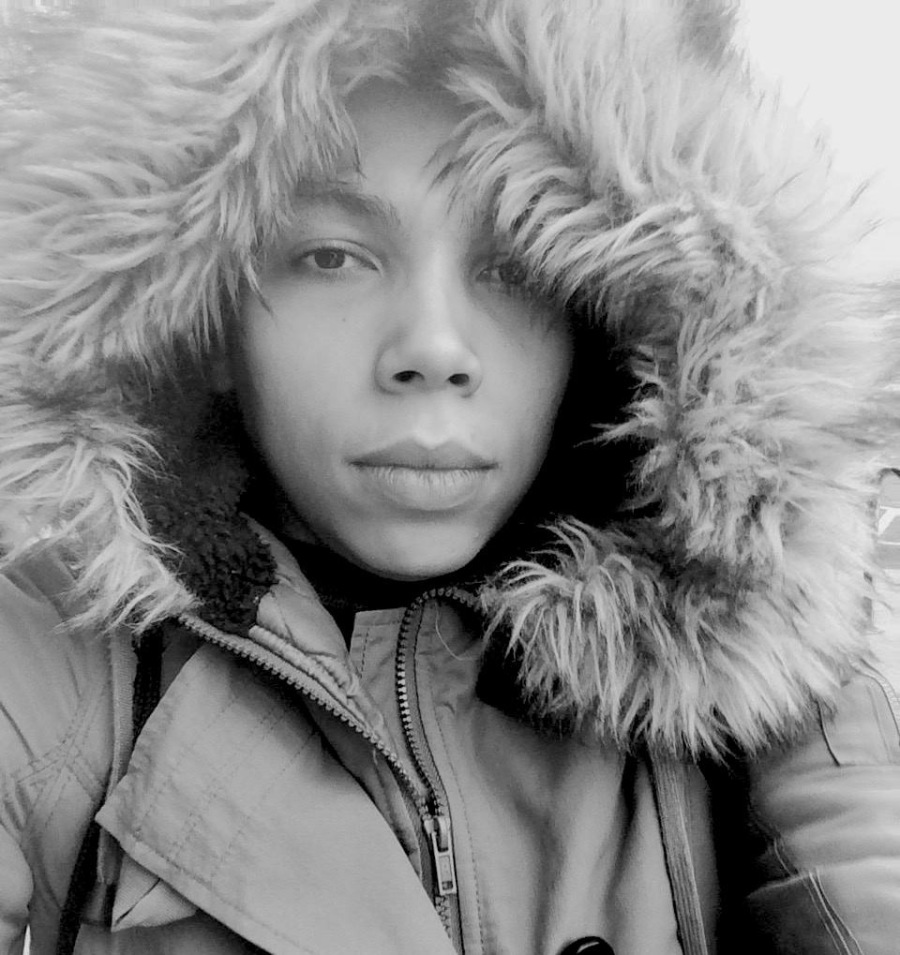 There has been a steady flow of talent migrating to beBee over the last couple of years, but in the last week or so, I was just blown away by the posts on one certain individual who is not only a talented writer taking on extremely relevant issues, but is also an exceptional skilled artist and musician. Please allow me to introduce newly appointed beBee Ambassador, Lyon Brave.
Dean: So tell us, who is Lyon Brave?
Lyon: You start with the world's hardest question. I'm a lot of things. If you don't define me by my work, you will define me by my hair. It's really big and often people tell me to duck down when I'm in the car with them because it's like driving with a tree and nobody can see anything. I started an orphan, surrounded by a lot of kids who got a bad hand, so I care about street kids and stuff like that. People accuse me of being self-righteous because I can be a bit of a do-gooder, but it's just, I know what it's like to have nothing and have people just walk past you like you are nothing…
Dean: Well you certainly have amazing hair, unless I'm the guy sitting behind you at the cinema.
So tell me, was there a pivotal moment in your life when you broke free?
Lyon: BROKE FREE? I would say I have broken through walls a number of times, just to be met with another wall. Because I was in foster-care I didn't even know my racial identity for a long time. Then I had to figure out my sexuality. Men weren't really doing it for me, and it took me a minute just to admit I have the hots for women because a black, lesbian orphan couldn't sound anymore like a horrible movie. When I was like 18, I finally met my real mother. That was emotional. I am not the Juggernaut. I get tired of breaking through walls, accepting parts of myself and other people… I guess one of the best things that happened to me was I got a passport. Americans don't travel as much as Europeans and Australians… When I got a passport the world seriously opened up for me, and I realized I was lucky to be so very single and autonomous.
Dean: Could have been worse, you could have been a black lesbian orphan raised in Saudi, and hey, I get you. Men don't really do it for me too. Now do you think it is easier for a lesbian to, and I hate this phrase, "come out of the closet" than for a gay?



Lyon
: Unfortunately no matter what country you are in it can be very dangerous to be gay or lesbian. I got my ass kicked by a group of boys a while back. It was seriously like 7 boys vs. me. They were real men you know. I think men just get really insecure or something. They get all offended I don't want their penis in my mouth or something and take it personally that I hooked up with their sister over them. I also tend to out game boys, as in even straight girls tend to like me and want to sleep with me if only to experiment. I just don't think most men can handle having a female Alpha around… However, being a lesbian also offers me a sense of protection. Most women don't see me as threatening or competition for their husbands, so I don't deal with all that catty girl crap where girls gossip and try to destroy me… I feel very lucky not to be a part of traditional girl world because it's pretty bitchy.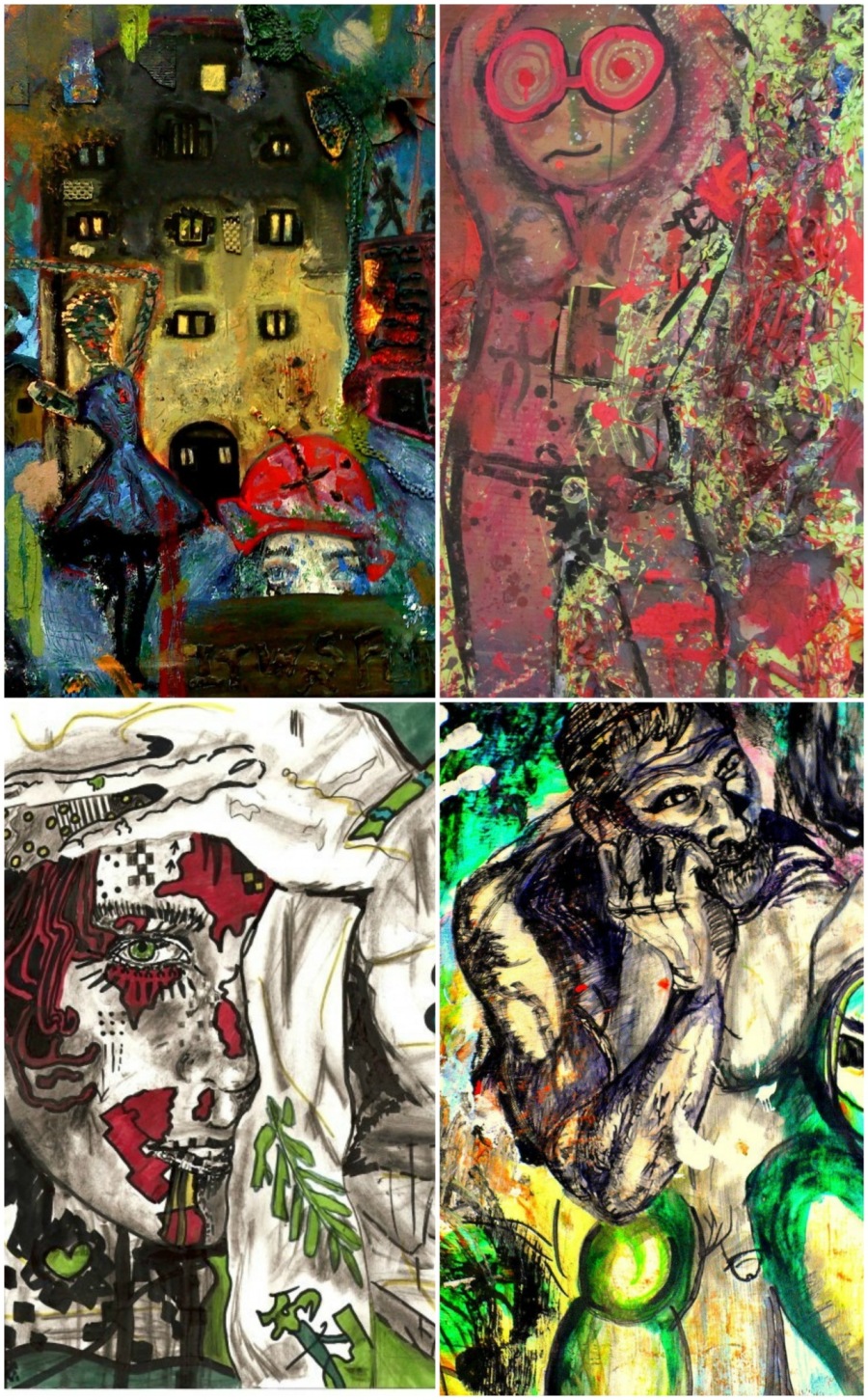 (Credit - Lyon Brave)
Dean: So tell me about Lyon Brave the artist.
Lyon: I owe that to the boys. Some how I ended up going to an all boys' school for a little bit because I kept getting into fights. At the time, I guess they didn't have "bad girl" programs, so they just tossed me in with the boys. The boys were always talking about comic books and Daredevil. They wanted to make comic books and they were always trying to outdo each other. I got into drawing because I was a competitive little booger and I wanted to be like "my Batman kicks your Batman's ass". The best part about it is if I'm really strapped for cash, I can usually just sell a couple of self-portraits on the streets.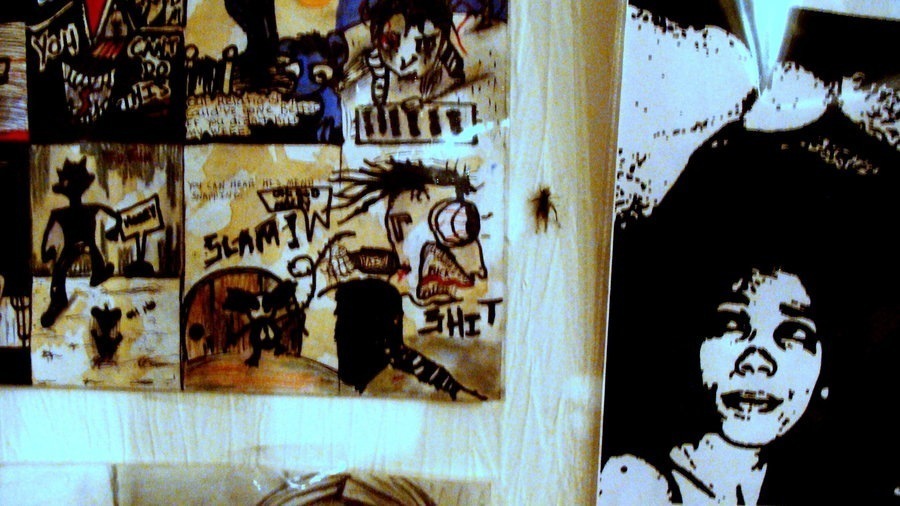 Dean: I would say your art is more deserving of an exhibition. You've got one hell of a backstory, and your exquisite physical appearance, hair and all, makes you highly marketable as an artist. I'd love to try and market you to someone like The RedSea Gallery in Singapore.
                                              (Funky Monkey, from the Black Lives Matter Soundtrack)
Dean: How did you get into music?
Lyon: Again I have the boy's school to thank. I won a jump rope contest at school and the prize was to go over to our teacher's house for dinner. This was a treat because in my house, dinner was like trying to watch too many puppies fight for nipples. She told me to go play while she getting dinner ready. There was a piano in her house. It was the first time I ever saw anything like it and I started playing. My teacher thought it was her daughter playing at first. She said I was a natural, but I never had money for music or instruments. I used to date musicians to get a few free lessons in. When you're poor you've got to get pretty inventive. I really relate to Aladdin honestly. I used to sneak into churches to play the piano… When I finally got a real piano lesson, the teacher was mad because I could play by ear, but not sight read. I mean she was really mad about it. She was like, there is no way you should be able to play Beethoven, I haven't taught you how to read that symbol yet. I have performed a few shows and the crowds always liked me, but it's usually not long before I pawn my guitar because there is an eviction notice on my door from being a "starving artist. Clearly, I would love to be able to make good money from art and music, but the time hasn't been right because I have been (cough) homeless a lot. The time will be right one day and I will be able to work on Maslow's Hierarchy. I hear to make great art, you have to suffer, so the universe is just getting me ready for my kick ass rags to riches story…
Dean: You are one hell of a class act. I see so many people who have been through similar stories constantly bitter at the World, but it's so good to see you have moved past bitterness and now focus much of your life helping and inspiring less fortunate souls. I'm sure everyone appreciates your authenticity; you are a truly genuine soul.
So let's move to the quick fire round.
Dean: North Korea, the Hermit Kingdom. If you had 5 minutes alone in a room with Kim Jong-un, what would you say to him?
Lyon: Would you like a cup of tea?
Dean: The British Empire was grew and ultimately fizzled over tea. If you could change one thing in history, what would it be?
Lyon: That's easy, I would have invented the Internet.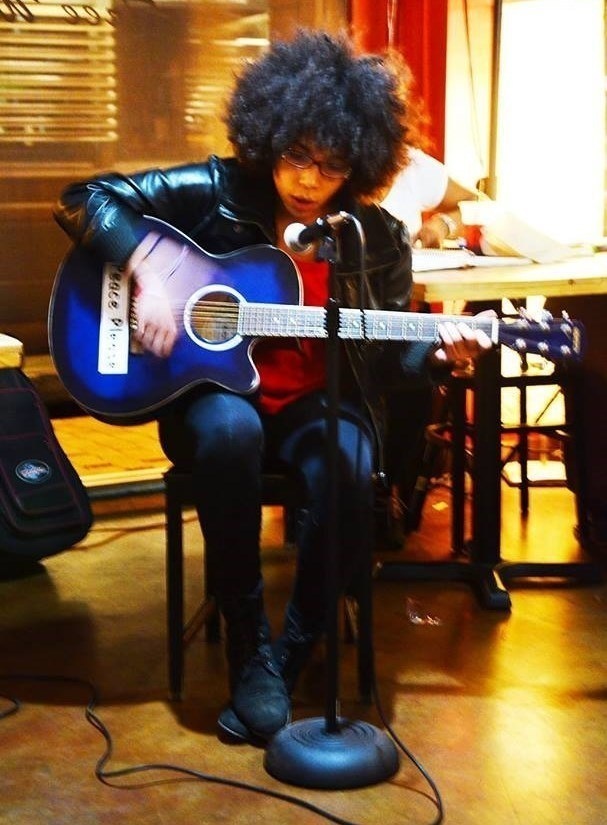 Dean: Which of your five senses do you enjoy most and why?
Lyon: Hearing. I love music. When I'm in a really bad, mood it's usually because I'm in music withdrawal. Actually, I once realized I was falling into a severe depression because I wasn't listening to music. I easily listen to two hours a day, so if I go weeks with no tunes, I seriously might need an intervention. Music is really high energy, a good beat can really get you up and dancing and I need that in my life, those feel good drugs that aren't drugs. Beethoven composed music deaf though, so I would get over it if I did go deaf.. I'd just press my ear to the floor and saw off my piano legs.
Dean: What would you do if you were invisible for a day?
Lyon: I would rob a lot of money and company secrets, and then I would draw a dick on Donald Trump's face.
Dean: What's your favourite cheesy pick-up line?
Lyon: Do you believe in love at first sight, or should I walk by again?
or
Hey girl, I will give you a big bag of money to fuck me (that one works pretty well)
Dean: What makes you cringe?
Lyon: Small penises
Dean: And finally, your favourite word?
Lyon: I have two favorite words:
1. Pussy but only in context of Prince singing Pussy Control
2. Hallelujah. (probably my actual favorite word)
""""
You have no groups that fit your search