4 years ago · 2 min. reading time · visibility ~100 ·
Slipping Inside an Indian Ambassador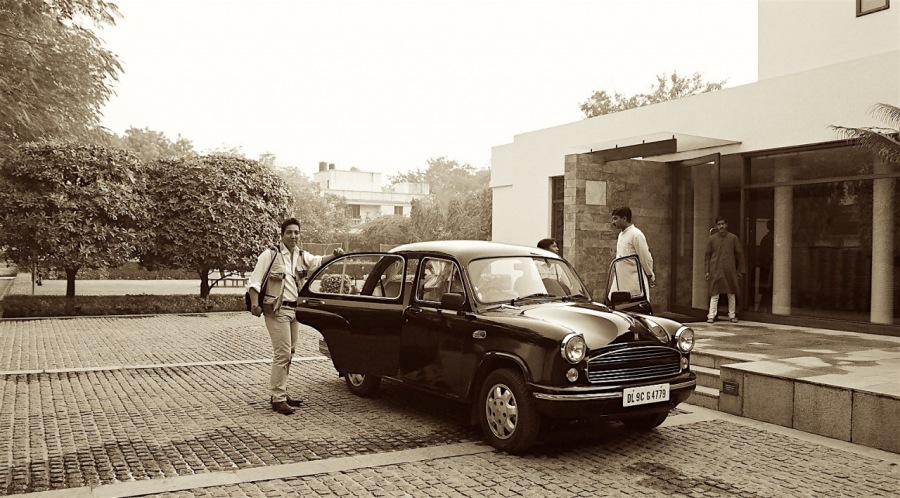 In the Spring of 2014, a wave of nostalgia swept the nation upon the announcement that production of the iconic "Amby" would be halted after a run of 56 years. From Jaipur to Chennai, devotees have since taken to restoring these little runabouts to their former glory. This was a car for all classes – a veritable workhorse used to ferry passengers from diplomats to top military brass, from common criminals to government Ministers. Named "The World's Best Taxi" by the tongue-in-cheek Top Gear, the poorly built Hindustan Ambassador has complimented an expansive rail network to powered India through an Industrial revolution. Slip inside the Indian Ambassador and one gets visions of grandeur and a sense of nobility. Expansive views, muscular bodylines and sofa like seats gave you the illusion of comfort and safety despite the often bone shaking ride, clunky gearbox, and mushy brakes. The car literally dominated the roads right through to the early 1990's, at one stage accounting for 70% of all cars in India. In it's final year of production, complacency finally caught up as sales diminished to a palsy 2,200 cars.
Not many people know that the "Amby" started life on the drawing board of Sir Alec Issigonis, the man behind the original Mini. The basic design cues were taken directly from the Issigonis designed Morris Oxford Series II, a cute little number produced from 1954 to 1956 at the Morris Motors plant in Cowley, Oxfordshire. Morris Motors and Hindustan Motors began producing cars in partnership using imported machining tools and kit parts during WWII at a small factory in the Port of Okha in Gujarat. Production moved to Uttarpara, West Bengal just after the war, and in 1958, the first Ambassadors, originally named the Hindustan Landmaster, rolled off the production line. The first cars off the line had a 1,476 cc engine producing a "steady as she goes" 55bhp, and a zero to 60mph time of around two weeks (well actually around 30 seconds). It was perhaps their simplicity that propelled their success. Sporting a relatively robust 4-cylinder engine and basic 4-speed manual transmission, the car was an easy fix and parts were cheap. It's no wonder that 33,000 Ambys still roam the roads of Kolkata today in the black and yellow livery of India's iconic taxis.
For all it's shortcomings, the utterly charming little Amby remains as charismatic as a Benedict Cumberbatch TV role. Needless to say, I love this car for all that it stands for. Cheap, but stately, but much like myself, this is a British expat that adopted a foreign and beautiful land as it's home. Like the Chicken Tikka Masala is now as British as jellied eel, the Amby is proudly and uniquely Indian and I would dearly love to own one.
""
You have no groups that fit your search