4 years ago · 3 min. reading time · visibility ~10 ·
Hanabi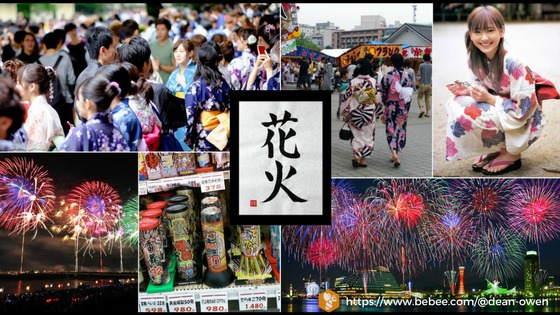 It's nice to see quite a few Japanese words make their way to the English language. 
For foodies, the trendy word these days is Umami, a fifth taste set "discovered" by the Japanese in the early 20th Century. 
The devastating 2004 Indian Ocean earthquake brought to light another word that is now globally recognized, Tsunami. 
When you talk about going to see the "head honcho", you might be forgiven for thinking the "honcho" is a Spanish reference, but it actually comes from the Japanese word hanchō, meaning "squad leader". 
You might also think me an Otaku (geek) for going to a Karaoke bar last night as stress relief to avoid Karoshi (death from overwork). 
The very last time I laughed with my father was at dinner in Portugal where he asked me if I wanted any dessert.
"Why not try the Tiramisu?" he suggested. "That's Japanese"
"Err, no it's not dad. It's Italian"
"Sounds Japanese to me..."
One word that is starting to gain traction is Hanabi.
Possibly my favourite word in any language, Hanabi simply refers to fireworks. In actual fact, the Kanji are two characters, Hana, meaning Flower, and Bi, meaning Fire. 
Up until I left England back in 1989, fireworks really meant for me "Remember Remember the Fifth of November", a.k.a. Guy Fawkes Day. It was a day to celebrate a foiled plot by a Catholic dissident to blow up the Houses of Parliament back in 1605. We'd huddle around a bonfire with cheap fireworks and sparklers and swig on a half bottle of Johnnie Walker's – 
Meh!
That all changed during my first summer in Japan, but more on that later.
As you well know, fireworks were a follow on invention of one of the Four Great Inventions of China, the Compass, Gunpowder, Papermaking, and Printing. The ancient Chinese enjoyed the wizard like spectacle of throwing a mixture of potassium nitrate and sulphur into a fire and watching the resulting chaos. In order to somewhat control the chaos, a chap named Li Tian came upon the idea of stuffing the mixture into hollowed out bamboo and throwing that into the fire. This would hopefully direct the delightful sparks away from awestruck onlookers.
Fireworks are said to ward off evil spirits and are used frequently all over China during festivals, weddings, funerals, housewarmings, project starts and completions, and shop openings.
These days Chinese are pretty good at fireworks, and are the largest exporter in the World. My first abode in Shanghai had a marvelous view over Shanghai's Century Park (think New York's Central Park, but bigger) where in Autumn, they would hold a huge firework competition, the Shanghai International Music Fireworks Festival. Nations from around the world would compete to see who had the best display. It was OK – nothing special. I have fonder memories of watching the Monte Carlo International Fireworks Festival from the public beach in Monaco. Incidentally, the teams from Spain have chalked up the most wins since that Monaco competition started back in 1966.
I've just come off my 8th Chinese New Year holiday, a weeklong celebration where on seemingly every street in Shanghai you'll have fireworks ensuring sleep depravation. It gets quite annoying to say the least.
Translate the word fireworks into Japanese, Hanabi, and all of a sudden the word has a different meaning. For me, Hanabi is synonymous with Japanese summer. The Hanabi Matsuri, or firework festivals, are held through the summer months, usually by the rivers. Couples dressed in light yukata, would take their mats in the early afternoon and pick a spot on the riverbank to spend the next few hours. They would bring Onigiri rice balls, portable BBQs, drinks, fruit, and snacks, and would play games, sing, and dance, while waiting for the display to start. Street vendors, or yatai, selling everything from yakitori to takoyaki would line the streets ensuring the swelling crowds were kept in good spirits. The displays were mesmerizing, and each bouquet that lit up the sky would draw huge gasps and cheers. The "happy face" fireworks were always hugely popular with the children. And then the display would end, and as the Japanese do so well, everyone would clear their own mess, ensuring all garbage and litter was cleared from the river banks. Some would stay on and party on the banks with games like Ping Pong Pang, whilst other couples would head off into the night for some ramen (pronounced lahmen) or a round of Karaoke.
The two things I miss most about Japan are Hanabi and Hanami. Hanami, meaning flower watching, is the Japanese tradition of picnicking under cherry blossoms in Spring, but are more of a excuse to get plastered after a hard day at the office. But the Hanabi festivals of Japan are truly fabulous.
The largest Hanabi in the World
With such an international community, I would love to know what fireworks mean to you. In India, I know for example that fireworks are used during Diwali, The Festival of Lights. In America, I think of the Fourth of July celebrations or Disneyland. What season do you associate with fireworks. Do share your fond memories below.
"
You have no groups that fit your search