5 years ago · 3 min. reading time · visibility 0 ·
A Single Breath of Air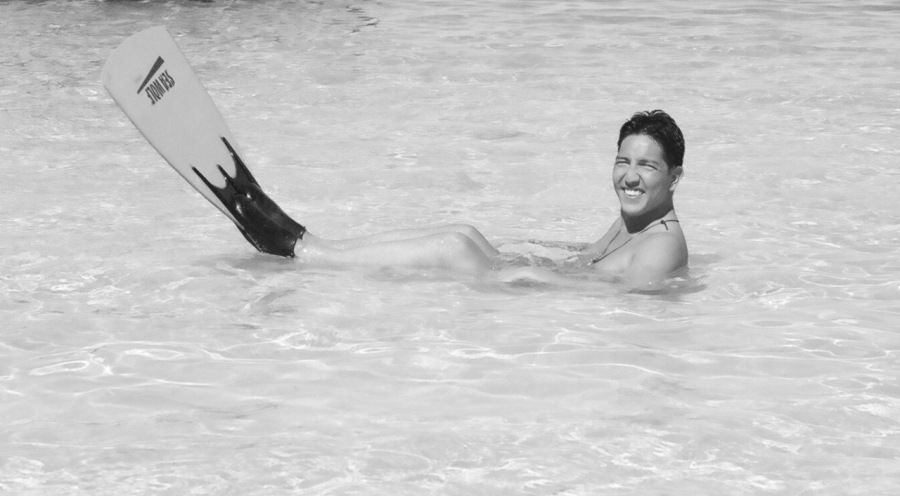 My name rang out on the loud speakers. I stood up, gave an embarrassed wave to the crowd, and started my prep for the race. I would love to go to Athens for the World Championships and just for a second, I thought I might have a chance. Shaking my head back to reality, I calmed down and started to think about the real challenge ahead. Making the distance on a single breath of air.
I'd done it in training many times. But this was the All Japan Championships. There was a film crew here for Heaven's sake. What the hell was I doing here?
Our club was small so Ken decided to enroll all seven of us. Ken seriously had a shot at Athens. The rest of us were here to have fun. Yes there was talk of our sport making the Olympics. I was doubtful. Hey, stop dreaming! You are a slob Dean Ashley Owen!
Truth hurts. I'd be lucky to win the heat. It had been years since my daily training regimen of 3km workouts. Yes I was captain of the St. Johns School Waterpolo team, but only because I didn't make captain of the swim team. The vice captain of the swim team is automatically made captain of waterpolo. And who do they pick for captain of swimming? Charlie Gare, the school hero, the God, the school prefect with the green jacket and gold badge. Never mind that I held the 50 and 100 yard breaststroke records (yep, our pool was built in some bygone era when Viscount Montgomery of Alamein was chairman of the governing body. It was probably him who decided on yards, bloody idiot!). Never mind that I beat Charlie in every single race. Never mind that 10 years later I get a call from Stephens our swim coach saying my record had just been broken. Charlie got swimming and I got waterpolo and that's the way it worked.
I slipped into my neoprene socks, dipped my fin in the water, and checked the line up. Boy they looked fast. A decade ago I would have shaved every single body hair off my hairless body. No need here. I have one task, to make 50m on a single breath of air and avoid getting my picture on The Japan Times as the only competitor who came up cold! 
Who am I kidding? The cameras were off for the heats.
It was time. The 50m Apnea Heats. The crowd around this Olympic size pool were going wild - all nine of them.
I swiveled to the starting block. Slowed my breathing, and looked toward the goal a whopping 50m away. Boy it was far compared to my 25 yard pool back in Blighty. One breath and it should be over in 20 seconds. For Pete's sake I used to hold my breath for 3 minutes practicing for freediving. But this was full out exertion. And I'd spent the last few years staring at Japanese Government Bond prices on screens and drinking my life to shreds entertaining Chemical Bank NY.
Deep breath.
Bang! (they used starter guns back then).
I hit the water and slipped into my dolphin kick. I exhaled half the air as I got into my stride. My peripheral vision saw nobody in sight, which could ether mean two things. I was way behind, or I was winning! I decided on the latter and took a huge gamble, expelling all my air to streamline my body. It felt fast. It felt very fast! I saw the 5 meter mark approaching fast. I didn't look up to see the wall, preferring instead to chance breaking my fingers. Touch.
Stopwatches were being checked. I'd won the heat. 21.75 secs, but I had no frame of reference. This was my first competitive Apnea race. I knew some guys were doing it in the 16 second mark, but I also knew I'd beaten the freestyle world record, albeit with a whopping great mermaid fin. Yeah, that's how I'll market it!
I hadn't counted on being in the quarter finals, and to be honest, I was spent. Fifteen minutes later I found out I was up against Ken, lol (of course back then there was no "lol"). The guy was a flipping fish! He lived and breathed chlorine!
That afternoon I found myself on the starting block once again. I decided to coast it. I had nothing left in me. Ken won the heat and I came in a full 10 seconds later in as stylish a dolphin kick as I could muster. Nobody noticed.
I'd done what I came here for, twice.
Two races, two breaths of air.
Watch Russian Finswimmer Pavel Kabanov break the World Record in the 50m Apnea in Baku, 2015. His current World Record stands at an incredible 13.85 seconds.
Finswimming has featured at the World Games as a trend sport since 1981 and was considered for inclusion in the 2004 Athens and 2008 Beijing Olympics.
After watching that race, would you like to see Finswimming as an Olympic sport?
Dean Owen is Co-Founder of Quimojo, a revolutionary new concept in Global Campus Recruitment.
"
You have no groups that fit your search